Classic Backyards have over 15 years experience providing design, supply and installation of synthetic grass sports surfaces. We have extensive experience with cricket fields, soccer fields, hockey fields, football ovals, tennis courts, golf and putt putt greens, bowling greens and school ovals for a variety of Sydney clubs, councils, schools and businesses. We stock specially designed synthetic surfaces to suit a variety of sports applications.
Synthetic grass is highly durable and by design is able to handle the high impact associated with various sports. All artificial grass installed by Classic Backyards comes with a full 7 year manufacturer's warranty so you can be sure you are receiving great value from your investment.
By utilising artificial grass for your sporting oval needs you are minimising the possibility of games needing to be postponed or cancelled due to wet weather or other climatic conditions which can affect various areas of Sydney and surrounding NSW. All grass supplied by Classic Backyards has an inbuilt drainage system to draw away liquid quickly.
Players in your sports association will love the flat, lush and hazard free surface and what better promotion for your club then passers-by noticing a spectacular green field all year round. Say goodbye to dry, dusty and cracked ground during summer and you can forget about those dead patches around the goals in soccer in winter.
Not only do you minimise the chance of cancellations but you will also cut down on costly maintenance costs. No more watering, no more mowing, even line marking doesn't need to be done as regularly when compared to real grass.
There is no doubt fake grass is growing in popularity and many sporting organisations are finding that it can actually create a form of profit when fields are rented/leased to sporting organisations as needed. The appeal of having a sporting ground always available, rain or shine, means that clubs are prepared to pay for the privilege.
We can design and customise a synthetic grass sports surface for your specific requirements, specifications and preferences. We stock a variety of styles and colours to ensure you have plenty to choose from.
Classic Backyards can deliver a synthetic sports surface which brings the following benefits:
No more mowing, wedding, fertilising, or watering
Reduced maintenance costs
Fast water drainage
Allows fields to be open all year round
No more dead patches (e.g. around the goal box in soccer)
Suitable for both indoor and outdoor use
Resistant to stains
Highly durable
UV protected against the Sydney sun
Just as important as the synthetic grass product itself is the surface preparation before the turf is installed. We are sporting surface specialists and have been completing professional installations for over 15 years. We know how to expertly excavate and level your surface to reduce the risk of injury and ensure you receive maximum life from the product. Don't risk your investment with anyone else. Here is an example of one of our recent projects.
Artificial Cricket Wickets
Whether it be an indoor or outdoor cricket wicket that you require, Classic Backyards will be able to meet your requirements. We can supply and install both match-grade wickets along with practice wickets. Our turf is manufactured to withstand the impacts of cricket balls and the constant running between wickets. Our surfaces are very durable and can handle all the weather conditions of the New South Wales climate.
There is no doubt us Aussies love our cricket and we put every ounce of passion for the sport into the cricket wickets we install. Our surfaces are flat and even and support the pace your bowlers want.
Synthetic grass cricket wickets are a perfect alternative to natural grass. As with all artificial grass products you can enjoy the benefits and cost savings associated with minimal maintenance. Whether your a school, business, council, cricket club or just looking for something different for your backyard, contact us today for a free quote.
Football and Soccer Synthetic Turf
As you know Sydney weather can be a real pain at times, particularly in winter months if you run a sporting organisation. If you currently have a natural grass field we are sure you are currently aware of the impact the climate can have on your real grass, not to mention the damage from consecutive nights of training and school bookings throughout the day. Natural grass needs time to recover and we know this doesn't happen with a fully booked sporting oval or field, especially when you through in a few rainy days and nights.
More and more sporting organisations for a variety of sports such as Soccer, Football, and AFL are turning to artificial turf for their surface needs. It doesn't go bare, it doesn't crack, it doesn't get muddy and it helps to prevent injuries which can occur due to rabbit holes, uneven surfaces and other hazards.
Did you know that the first soccer field to receive synthetic turf was all the way back in 1966? Back then it was known as Astro Turf and technology advancements mean the artificial turf you receive today is vastly superior! The International controlling body for Soccer is FIFA and they have their own certification system for artificial turf quality and playability. FIFA also has a list of recommended pitches.
Classic Backyards can deliver you a synthetic soccer turf field that will overcome the many pitfalls of using real grass along with save you money due to minimal maintenance requirements.
Hockey
Artificial turf is by far the most popular choice for Hockey fields the world over. Federation of International Hockey have a useful guide you may like to read.
We can design, supply and install a synthetic grass Hockey pitch to meet your exact requirements. Our team of professionals knows exactly how to install your pitch to ensure you receive years from your investment.
Thinking of having an artificial hockey pitch installed? Contact one of our friendly staff discuss for a free measure and quote.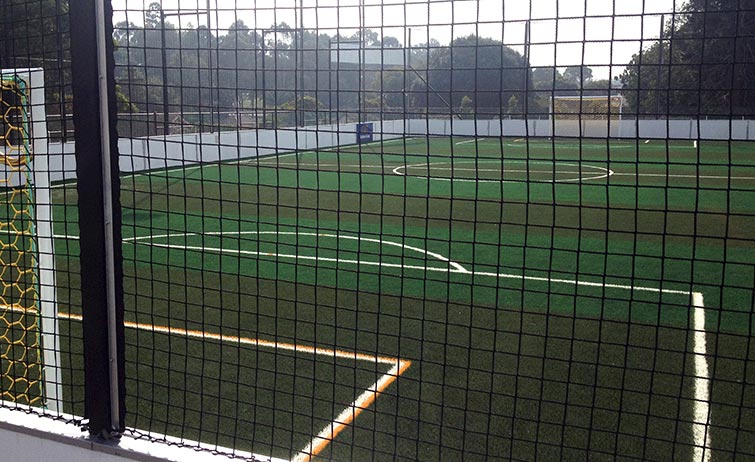 Lawn Bowls
Whilst there is an upfront cost to having a new artificial turf lawn bowling green installed, your club will recover it quickly from the ongoing costs saved on maintenance. Reduced water costs, no mowing (so no petrol and oil costs), no edge trimming, no fertilising, no weeding chemicals, the list goes on and on.
If you already have an existing real grass bowling green, the process to convert it to synthetic grass is basically the same as re-laying the existing surface with new real grass.
We know your club members will demand a surface that is as close to real grass as possible. We have an extensive range of various synthetic grass products to suit different applications and requirements, contact us today to discuss your needs.
No one likes seeing their usual game of lawn bowls cancelled because of wet weather. Artificial turf has inbuilt drainage which will draw liquid away from the surface, meaning your green will be dryer sooner after periods of rain. We can support this inbuilt drainage with a specially designed drainage system. Less cancellations means happier members.
Barefoot Bowls is becoming more and more popular and the good news is if you have an artificial turf green you can allow play well into the night or throughout the entire day without having to worry about surface damage. All of our grass products are highly durable and stain resistant. More time for play means more potential earnings for your club.
If desired we can install a shock-pad underneath the synthetic grass surface to assist with regulating speeds and making the surface more user-friendly.
The speed of the green is able to be altered by some simple steps which can either be completed by our professional team or explained to you for your greens keeper to complete.
Lawn Bowls Australia have an excellent guide on Bowling Green Construction Guidelines which you may like to read for further information.