Classic Backyards can supply and professionally install a tournament standard realistic synthetic grass golf and putting green that will allow you to practice your golf game in your own backyard any time of the day. Of course, installation isn't just limited to backyards, we can install a putt putt course in any outdoor or indoor location artificial grass can be installed including, hotels, motels, retirement villages, offices, apartment buildings, parks, and schools just to name a few.
Best of all, the fake turf surface will require minimal mainteance and can help increase the value of your property. Our putt putt greens do not require regular rolling. We have a comprehensive Synthetic Grass Care and Maintenance Guide which includes specific instructions on any maintenance required. Not only will your golfing green be great to use, it will be loved by family, friends and neighbours and will be aesthetically pleasing all year round!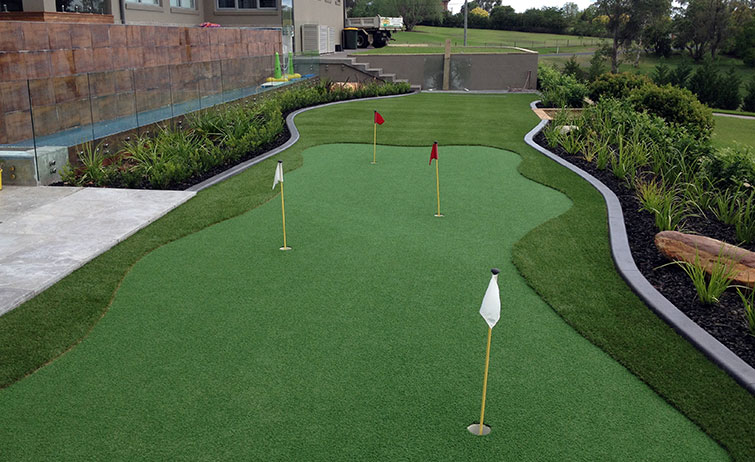 We love golf and we have supplied numerous Putt-putt greens for a variety of different environments. We have extensive design experience and will be able to deliver an artificial course that will no doubt exceed your expectations. Cup locations, shape, size, grass length, they are all customisable! Have a look at our portfolio for some recent examples of our installations.
Of course, if you are itching for a game in Sydney now and can't wait this article lists some of the best putt putt golf in Sydney.
It's like a personal miniature golf course at home
Chipping, putting, back spinning the ball, slicing, mishitting (we have all done it), anything you can do on a real natural golf course you can do on your Classic Backyards synthetic miniature golf course. Of course, the good news is, your own personal golf course never closes and you don't need to drive in a car to get there, just walk into your backyard and start to putt away. We know how to design a course that is both interesting, challenging and entertaining, you may not want a course that is too easy, we know where to put the contours (we can even install hazards if you like). You decide how challenging you would like it and we will design it based on your feedback.
In this day and age where children are being more and more entertained by iPads, computers and Xbox's, what better way to get them outside than with their very own putt putt course.
We only use the best synthetic grass products to ensure our greens reflect accurate putting speeds. We can cater to a variety of environment variables including hills, slopes, bunkers, trees and hazards. We can contour and cut to any shape required.
Don't delay, if you would like enjoy the entertainment and lifestyle benefits of having a professionally designed and installed golf and putt putt green at your home contact Classic Backyards today and take your golf game to an entire new level! Who knows, maybe one day you will be good enough to get into the Top 5 for the Professional Putters Association.
Commercial Golf Course Installation
Our specialist skills don't just lie with residential putt-putt courses. We can also provide design and installation of commercial large scale golf courses.