Deciding whether to have synthetic grass instead of natural lawn can be a tough decision. We here at Classic Backyards in Sydney have put together a list of the many benefits artificial grass can offer to help you make an informed decision.
Green lawn all year round
Everyone wants to have their lawn looking green all year round. Synthetic grass doesn't suffer the 'burn' or dryness that can be seen in natural lawns over the colder and hotter months. It maintains its green vibrant look all year round! Never be embarrassed by a long or dead lawn again.
No lawn mowing
Sure it can be good to get outside and mow the lawn every now and then, but no one enjoys having to do it every second week during peak grass growing periods. Wouldn't you rather be spending that time doing the things you love? One of the pro's of synthetic grass is that it requires no mowing, ever!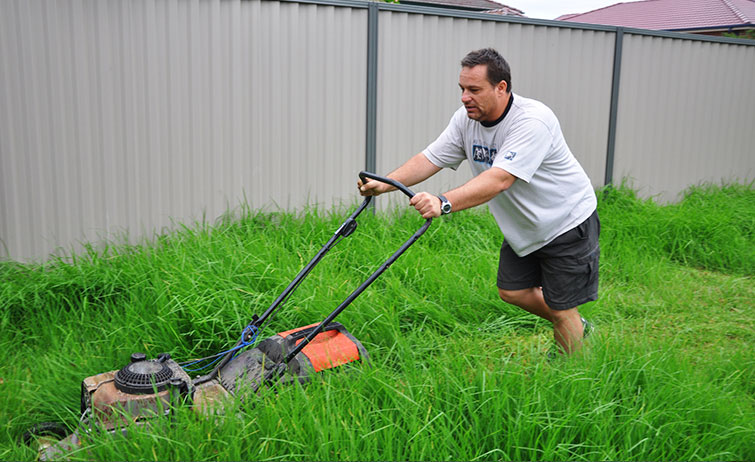 Low ongoing maintenance costs
Save on water costs. No fertiliser costs. No pesticide costs. No lawnmower or whipper snipper petrol costs. No lawn mower or whipper snipper oil costs.
No wedding
Weeding isn't fun and worst still, needing to weed regularly is annoying!
With a synthetic grass lawn you can forget about spending your weekends going to Bunnings buying weed spray before wasting countless hours applying it to your lawn. Not to mention the time and effort saved down on your hands and knees pulling weeds out.
No Bindi's
No weeds also means no annoying bindi's. You can roam a synthetic lawn without needing to find your thongs or a pair of shoes first. No bindi's also means the lawn is very children friendly.
Safe for Children
Our synthetic grass is soft and totally safe for children. No dangerous chemicals are used, the grass is safe for everyone.
No Mud
When you have an artificial lawn installed you no longer need to worry about children coming back into the house all dirty, stamping mud everywhere.
As noted earlier, no bindi's means your children can play in the backyard without the fear of stepping on a painful weed.
Excellent for areas with poor sunlight
Unlike traditional lawns, synthetic grass doesn't need the sun to keep its green vibrant appearance. Artificial grass is a great option for those areas that don't receive enough sunlight to sustain a traditional grass lawn. Keep those normally dull, grey looking shady areas looking green and vibrant with fake grass.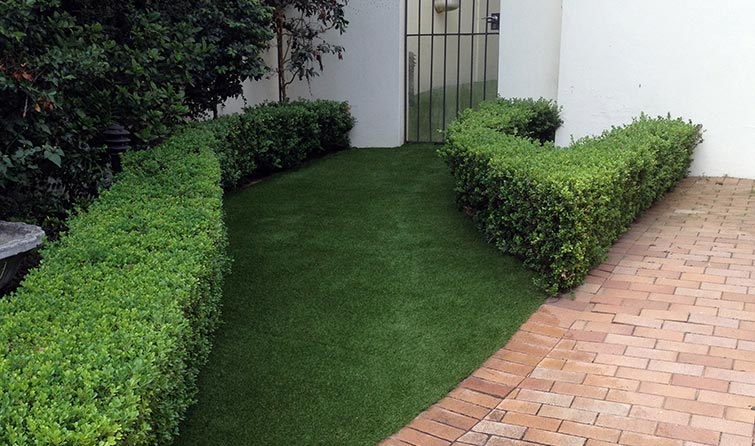 UV Protected against the Sydney sun
All of our grass products come pre-treated with a UV protect so they are resistant to fading in the harsh Sydney sun.
Pet Safe
We only use the best pet friendly and safe artificial grass.
If your pet urinates on the grass it will filter straight through to the infill sand, meaning no clean up. If your pet does a 'number 2' it can be scooped up and housed for easy cleaning. Our grass products are very resistant to staining.
Excellent drainage
We ensure that we provide proper drainage with each installation we complete. This means that during wet times, your fake grass lawn will easily absorb the water to create a mud-free environment.
Long Warranty
All synthetic turf installed by Classic Backyards comes backed with a 7 year manufacturer's warranty for peace of mind.
We hope the above benefits help you when trying to decide whether to go with a synthetic grass lawn or traditional grass lawn. Better manufacturing techniques means that synthetic grass is getting better and better as time goes on and as can be seen by the long list of benefits listed above, it may just be the ideal solution you are looking for. Contact us at our Sydney office to find out more.