Artificial grass can be a perfect solution for your family dog or other pet. It offers a thick, clean, safe and visually appealing lawn that is soft underfoot meaning your dog's paws will love it.
The running around of pets can lead to high traffic which traditional real grass can't handle. It will become dull, brown and even die if it isn't given time to recover adequately. Synthetic grass doesn't have this problem and is well suited to the wear and tear that family pets can bring.
Dogs can be destructive at times but rest assured that all fake turf supplied by Classic Backyards is highly durable, designed to withstand even the toughest of dogs. Not only that, it is totally safe and non-toxic for pets so you have nothing to worry about.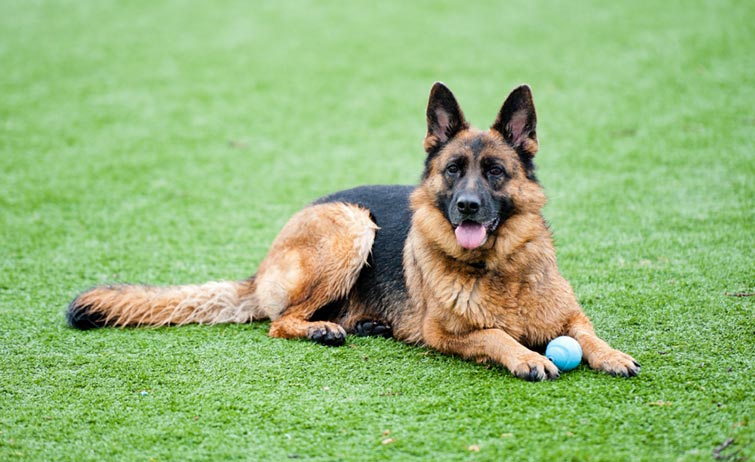 Animal shelters, which house multiple pets, find that synthetic grass provides the perfect surface for them given real grass would have no chance of surviving the day to day stress caused by numerous active dogs and other animals.
We get customers asking us "Will my dog like artificial grass?" Not only will your dog like it, they will love it! Your pets will love the fact they can enjoy a soft and vibrant surface to play on all year round. No more hard dried ground on those summer days and no more staying off the grass because Dad has just sprayed for weeds or fertilised. You will have perfectly green lush artificial grass 365 days a year for your pet to enjoy. Don't just take our word for it, here is an article from news.com.au explaining more about synthetic grass for dogs.
Clean, safe and durable
Your dog can try its best but it will be no match for the durability of our specially designed Classic Backyards artificial grass.
The synthetic surface has a specially designed inbuilt drainage system which draws away any liquid, including dog urine. If needed, the grass can be easily hosed down. Should you dog do a "number 2" on the lawn, it can be easily picked up as normal and if needed hosed away.
It is stain resistant and by following our Care and Maintenance Instructions will last for many years.
If you allow your pet to enter your home you can be reassured that the days of your dog tracking mud through the house are over. Even when it is raining there will be no mud to worry about due to the infill drainage system.
We know how to professionally prepare your surface to cater for highly active dogs who take pride in trying to dig up everything.
We service all of Sydney and surrounding areas
Classic Backyards specialise in the design, supply and installation of artificial grass for dogs and pets in both Sydney and surrounding areas. We know which products to offer you for pets of all shapes and sizes along with budgets big and small. We take the time to consider all factors, including the size of your backyard, slopes, hazards (such as trees and paths) etc. before recommending the solution which will fit your needs best.
The artificial lawn we supply looks incredibly realistic, don't think it is like the synthetic grass or Astroturf from the 1970's, this is totally different! It is UV resistant and comes complete with a 7 year manufacturer's warranty.
Minimal maintenance
In regards to maintenance, as we noted earlier you won't have to worry about muddy spots and any urine will drain through the fibers. If needed, wash away with a hose. Urine won't stain the surface as it is stain resistant.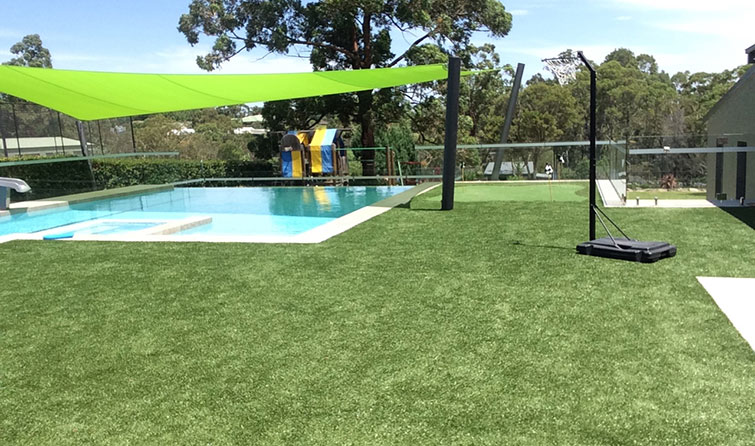 Your dogs won't chew the grass and they won't be able to dig through it, it is too strong! Whilst the lawn has less maintenance you will also benefit in less maintenance of your pet, less mud means less time washing your dog. Think of all of the money you will save on traditional lawn maintenance costs. No lawn mowing, no weeding, no fertilising!
Classic Backyards can design, supply and install an artificial grass lawn for your dog and pets which has the following benefits:
Excellent drainage for dog urine and liquids
No mud equals no dirty paw prints in the house
UV protected to handle the Sydney sun
Realistic looking, your dog won't notice the difference!
Safe, clean and non-toxic for pets