Whether you need a synthetic grass lawn for residential or commercial use you can count on the experts at Classic Backyards to deliver you a solution which will exceed your expectations. We meet Australian standards by using only the best quality Australian synthetic grass products. We are a Sydney based company with over 15 years professional experience and we are ready to design you a quality artificial grass backyard with virtually zero maintenance required.
Why choose Classic Backyards for your artificial grass lawn?
Classic Backyards has the knowledge and extensive experience needed to ensure you get maximum value from your fake turf investment. One of the key components in ensuring that you receive years of use from your new fake grass is making sure you have a properly prepared base. We know what materials you need and how to install them professionally. We specialise in installations for the Sydney-metro area along with regions such as Wollongong, Blue Mountains and Newcastle.
We have a range of artificial grass suppliers which means we can offer a large variety of products to our customers. This enables us to meet the individual needs of our customers by providing and installing fake turf to cater for all budgets and sizes. All of our products are backed with a 7 year manufacturers warranty. We stock only the best most realistic looking turf products available.
We are artificial grass installation specialists for both residential homes and commercial applications. Our attention to detail and expertise is unmatched, backed by over 15 years of experience.
We have provided synthetic grass backyards for small units, town houses, homes, soccer fields, sporting fields, tennis courts, childcare playgrounds, you name it we've done it! We can also design and construct large scale projects for property developments. No project is too big or small.
Contact one of our friendly staff in our Sydney office today to arrange for a free quote.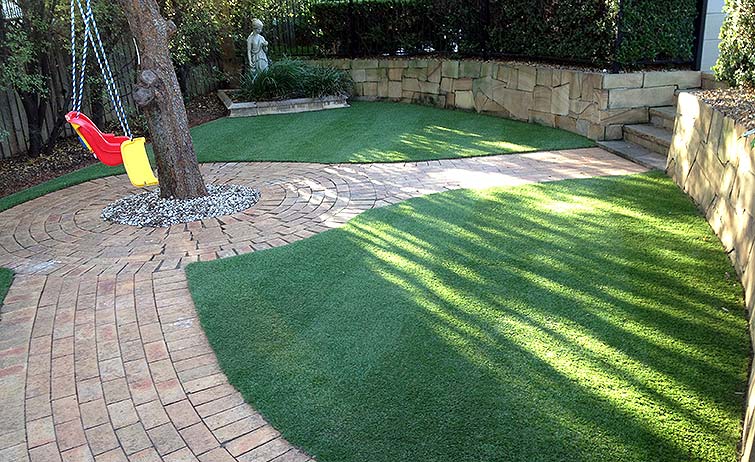 Why use Synthetic Grass instead of real lawn?
A fake grass backyard will save you both time (no maintenance) and money (no watering, no petrol/oil for your lawn mower, no fertilising, no expensive weed sprays), leaving you with more free time to enjoy what life has to offer rather than slaving away in your backyard under the hot Sydney sun. Best of all, you will have a green, lush looking backyard all year round!
Synthetic grass has developed in quality and texture over the years, appealing to an increasing amount of busy families that require a natural looking fake grass lawn with virtually no maintenance. Our artificial grass is UV protected, stain resistant and durable. It comes with a 7 year manufacturers warranty.
Synthetic grass is able to drain water away during periods of heavy downfall meaning you can say 'bye bye' to that muddy backyard! No more needing to worry about the kids trampling mud through the house.
All of the synthetic grass supplied by Classic Backyards is toxin-free and meets strict Australian Standards, it is totally safe for both children and pets, along with the rest of the family. Dogs love to dig up natural turf but this won't happen with artificial grass. Pet wee either filters through the artificial surface or can be easily hosed away, with pet poo being picked up and disposed of as normal.
An artificial grass lawn you can be proud of!
View our synthetic grass recent projects to see how our expert team can transform your backyard into a lush green maintenance free yard that will make all your neighbours and friends envious for years to come. You would be surprised where you can use synthetic grass, you can use it for pool surrounds (no more worrying about grass clippings flying off your mower and ending up in the pool!), children playgrounds, backyard golf putt putt greens, gym workout areas, and many more! Not only is synthetic grass suitable for those environments but our team here at Classic Backyards has had experienced installing artificial grass products in each one. Rest assured that we have the knowledge and skills required to get the job down right the first time.
Your dog and pets will love your new artificial grass lawn. We have a full article on the benefits of artificial lawn for dogs, be sure to check it out.
If you want a stunning, natural looking artificial lawn, don't wait any longer. Contact one of our friendly synthetic grass experts today to discuss how we can deliver a solution to suit your exact needs.